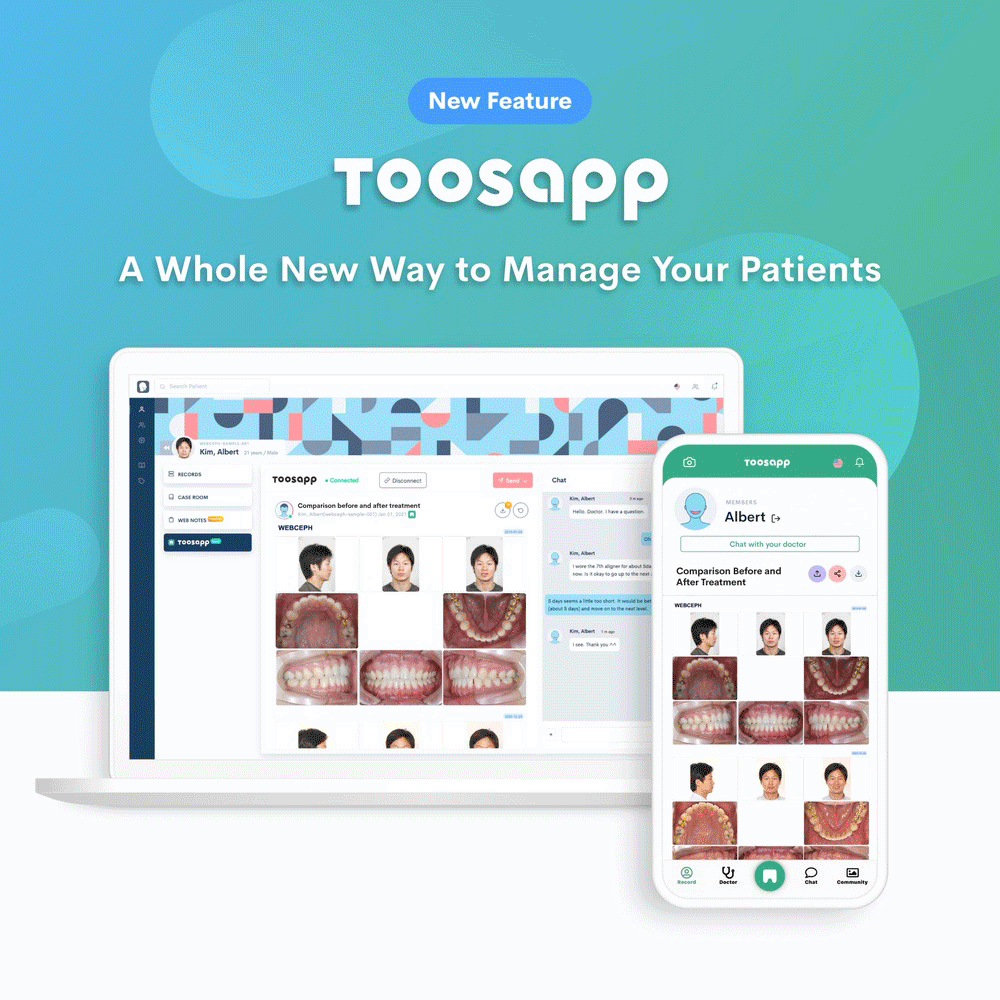 Dear members.
Today, we are going to announce a new feature.
Until now, dental clinics had to use phone calls or SMS text services to communicate with their patients. However, these methods were not only costly each time, but also could not transfer various types of media (for example, photos or video etc.).
Now, we are introducing a whole new way to manage and communicate with your patients: Toosapp.
Toosapp offers very smart and easy communication tools for you and your patients.
When the patient installs Toosapp, they are connected to you, and you can easily send instructions, educational materials, and treatment progress photos to the patient with simple clicks.
Through Toosapp, you can provide high-end medical information services to patients, and patients will be more satisfied with your dental service.
Toosapp is now available for free, and plans to make even better features in the future.
We will continue to do our best to provide good services that are helpful to both patients and dentists.
We sincerely thank you for your continued support and love.
___________________________________________
존경하는 웹셉 회원 여러분.
오늘은 새로운 기능을 소개 드리고자합니다.
지금까지 치과클리닉은 환자와 의사가 소통하기 위해 전화, SMS 문자 서비스, 또는 카카오채널을 사용해야 했습니다. 그러나 이러한 방법은 매번 비용이 들거나 치과에 특화되어 정리된 형태의 매체를 전송하는데 어려움이 있었습니다.
환자를 관리하고 환자와 소통하는 스마트한 새로운 방법: Toosapp을 소개합니다.
Toosapp은 환자를 스마트하게 관리할 수있는 완전히 새로운 방법들을 제공합니다.
환자가 Toosapp을 설치하면 치과의사 주치의와 연결이 되며 간단한 클릭만으로 환자에게 치료 후 주의사항, 치료와 관련된 교육 자료, 치료 동의서 또는 치료 진행 사진들을 선택적으로 그리고 매우 간편하게 전송할 수 있습니다.
Toosapp을 통해 치과의사는 차별화된 고급 의료 정보 서비스를 제공할 수 있으며 환자는 치과의사의 의료서비스에 더욱 만족할 수 있습니다.
Toosapp은 현재 무료로 사용하실 수 있으며, 앞으로 더욱 편리하고 유용한 기능들을 추가해 나갈 예정입니다.
앞으로도 저희는 환자와 치과의사 모두에게 도움이 되는 좋은 서비스를 제공하기 위해 최선을 다하겠습니다.
변함없는 성원과 사랑에 진심으로 감사드립니다.
WEBCEPH TEAM